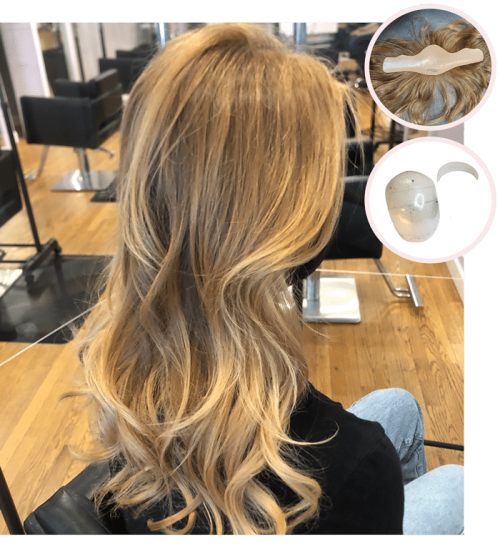 Ragazzi CNC-XT Hair
System in Boston, MA
Women seeking to add length, textural change, and volume to their hair often look into hair extensions. In fact, a recent study found that 13% of women use hair extensions, and 93% of women would consider hair extensions in the future. 
At Wilde Hair, we offer Ragazzi XT, a custom CNC unit specifically designed to fit over the patient's occipital bone in the back of the head and it extends down, towards the ears. The CNC-XT hair system is a revolutionary alternative to hair extensions. It is a non-surgical hair and scalp prosthesis that utilizes 3D-mapping technology for a perfect fit. The CNC-XT system gives full length, volume, and frontal projection of the hair towards the front of the face. With Ragazzi CNC-XT from Wilde Hair, you will have the beautiful and voluminous hair of your dreams.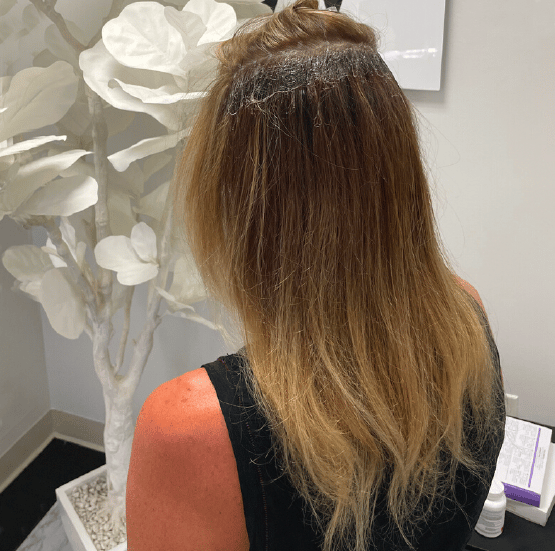 The Ragazzi CNC-XT Hair System is Customized for You
Every Ragazzi XT hair system is custom-designed, adding volume and length where needed. CNC-XT is personalized to match your scalp color, hair color, denier (thickness of individual hairs), hair texture, density, length, and style. 
With only 100% virgin or unprocessed human hair, the Ragazzi XT cranial prosthetic hair system is made with the purest quality hair in Bologna, Italy. This hair prosthetic system is healthy, stays gorgeous, and blends seamlessly with your own hair. No other hair extension system on the market allows this level of customization, seamlessness, or hair quality with the ability to get wet and still look flawless.
Cesare Ragazzi CNC-XT Hair System FAQs
The Cesare Ragazzi XT hair system provides three times the amount of hair that traditional extensions give. The CNC-XT hair system is revolutionary because there are no tabs, tapes, or tracks that can become visible, so when the wind blows in your hair it will retain its beautiful, natural look, and all you can see is hair and scalp. The Ragazzi XT cranial prosthetic system replaces and surpasses traditional hair extensions because of its incomparable versatility, seamlessness, and superior quality.
Ragazzi XT is a custom Ragazzi CNC unit designed to fit over the occipital bone in the back of the head and extends toward the ears. In essence, only one piece is needed to create luxurious volume and length. This hair system is the perfect solution for women that are struggling with traditional hair extensions that want a custom cranial, second-skin hair restoration system that gives enhanced volume length and texture change. If you're looking for the best Ragazzi hair system for your needs, schedule a free virtual consultation today.
No! The Ragazzi XT hair prosthetic system is completely seamless and undetectable. A hallmark of distinction with the Cesare Ragazzi CNC-XT system is that it is designed to be safely and securely bonded over the occipital bone and it extends down towards the ears. This gives forward flow of movement to the front of the hair, and it still retains its natural look even when it gets wet which cannot be done with any other system on the market today. Women wearing this system have given remarks that they look like they did 20 years ago!